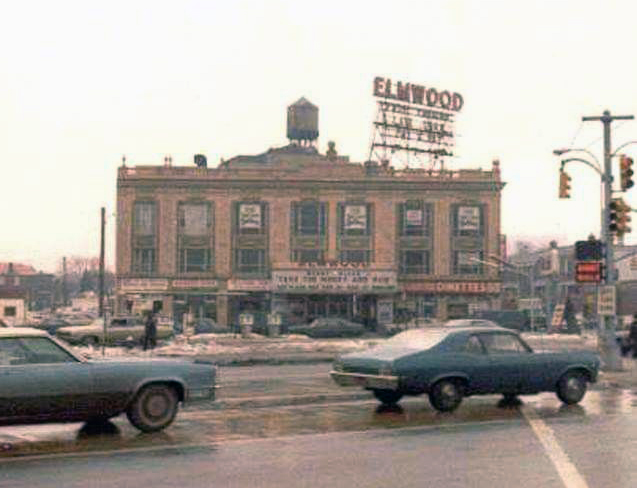 So if you have the internet, you've probably seen this "challenge" over the past few months (years?) on Facebook. Maybe participated yourself.
I was twice "nominated" (thanks Charlie Unger and Tim Bogart), but hadn't taken the bait. Yet. The task is overwhelming.
The directive itself varies a bit, but here's the couple I was invited to:
________________________________
Post an image from 10 favorite movies with no explanation and pin the challenge on another person each day.
________________________________
10 films that made an impact on you the first time you saw them and are still on your watch list, even if only now and then. Post the poster, no need to explain and nominate a person each day to do the same.
________________________________
Let's get this out the way right up front… I'm not doing that. I can't do that. When you've been around for a few decades, and seen more than your share of movies, I don't know how the hell you could possibly whittle down your favorites to a mere ten.
Sorry, Marie Kondo. A lot more than that have sparked joy.
Instead, I'll be doing multiples of ten. Along with titles. And a bit of explanation. Clearly I'm not great at following rules.
So maybe grab something to eat. A coffee. Two. I've tried to at least minimize the volume by doing some bundling on theme. You'll see.
(It'll be pretty clear my formative years were in the 80's, though I assume the lists for any movie fan will primarily reflect the same for them)
Here we go…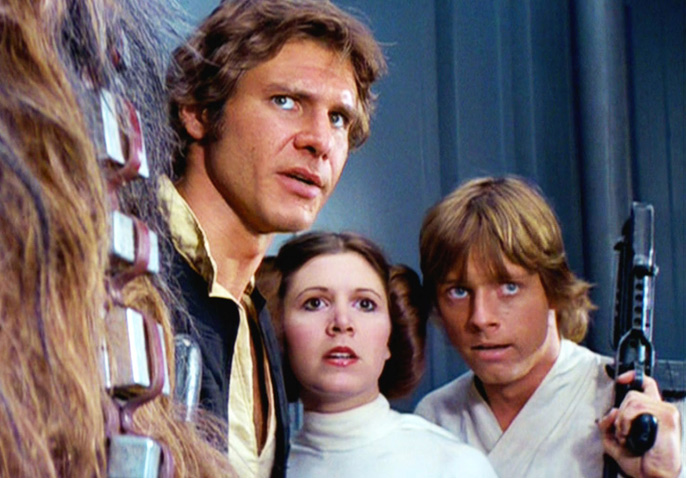 The first title that pops into my head is always STAR WARS. This will forever be at the top of the list. I was just a kid when it came out, and I couldn't have loved it more.
It was different than the more "serious" science fiction around at the time, like Star Trek and Space: 1999.
Star Wars was action. Adventure. Laser battles and dog fights. The whole magilla. I group it with its immediate successors, THE EMPIRE STRIKES BACK and RETURN OF THE JEDI. Yes, even Return of the Jedi.

ACE VENTURA: PET DETECTIVE is my favorite over-the-top comedy. Jim Carrey's relentless commitment to his character was pure gold. Similar, in regards to being relentlessly over-the-top, is AIRPLANE! A movie unlike any I'd seen before. Silly, parodyic, absurdist. Fantastic.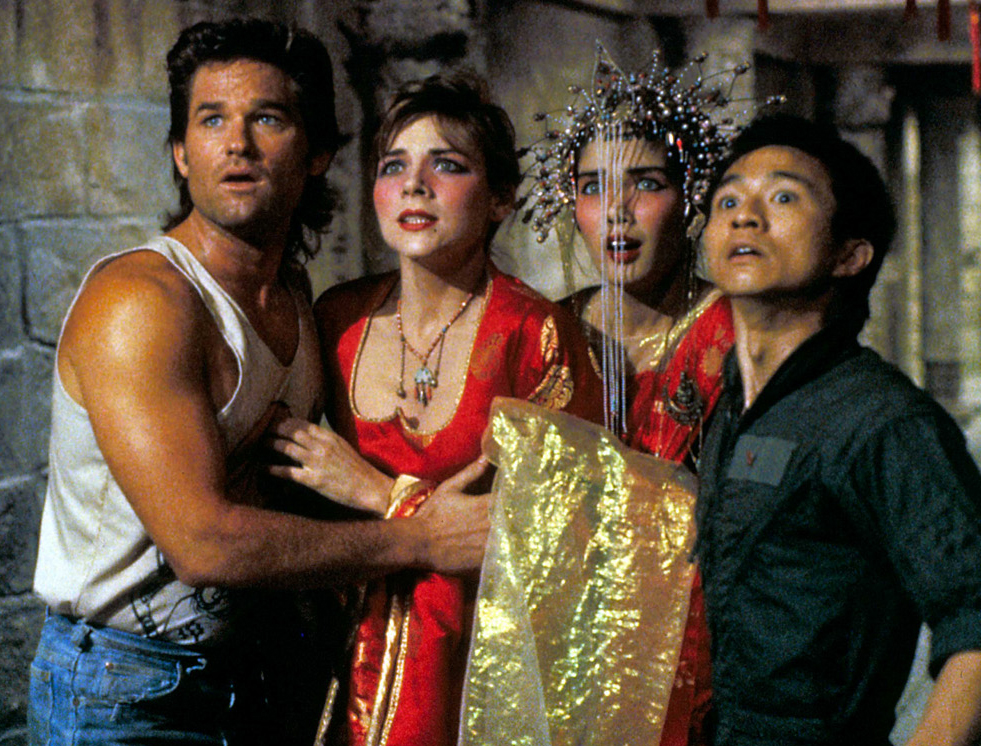 BIG TROUBLE IN LITTLE CHINA was another revelation. Action, fantasy, and comedy, all wrapped around the bravado performance of Kurt Russell as a guy who just wanted his truck back. To this, I'll add what I believe is its spiritual sibling – THE ADVENTURES OF BUCKAROO BANZAI: ACROSS THE EIGHTH DIMENSION. Imminently quotable, imminently weird, and a sort of inside secret with me and my friends. At least until it grew into a cult classic.
For my John Belushi picks, ANIMAL HOUSE definitely takes the giant rolling cake, with a great ensemble and moments galore. Meanwhile, THE BLUES BROTHERS brings along a series of legendary musical cameos and an awesome soundtrack.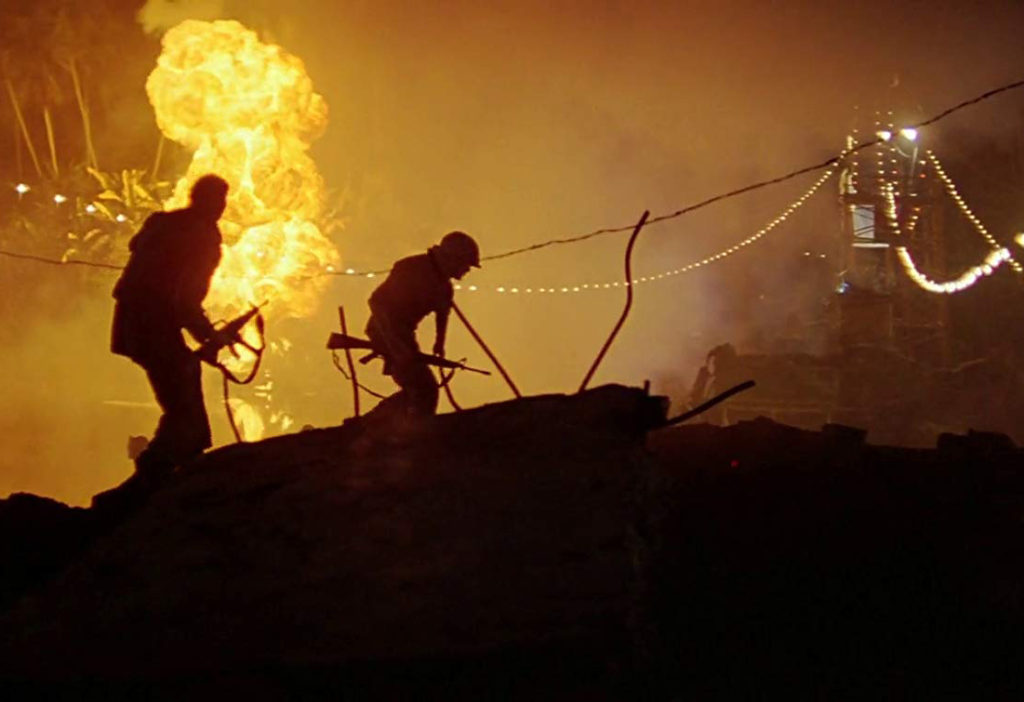 War is hell, of course, but it makes a compelling viewing experience.
The stylistic APOCALYPSE NOW stands above the rest, but a string of others, including FULL METAL JACKET, PLATOON, SAVING PRIVATE RYAN, and SCHINDLER'S LIST, all brought a unique perspective of life under fire.
As a big fan of Eddie Murphy on SNL, it was a thrill when he burst onto the film scene with an early string of instant classics, like 48 HRS., TRADING PLACES, and the best of his best, BEVERLY HILLS COP.
And then there's the wonderful John Hughes. I think I had a religious experience at THE BREAKFAST CLUB, but SIXTEEN CANDLES, and FERRIS BUELLER'S DAY OFF are also absolute standouts. "Never had one lesson!"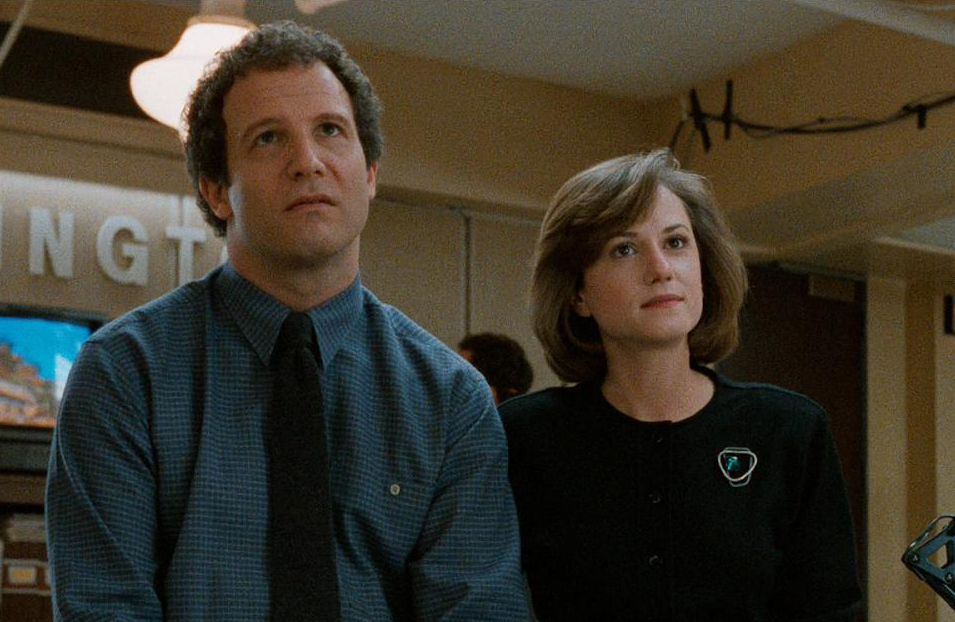 I didn't really discover Albert Brooks until BROADCAST NEWS, but he was the best part of an already amazing movie. Despite wanting him be with Holly Hunter at the end, I knew it probably wasn't going to happen.
Thankfully, I got to see him finally get the girl in DEFENDING YOUR LIFE just a few years later. Too bad they were both already dead.
The reaction to the WHEN HARRY MET SALLY… fake orgasm scene was a bit overblown, but it still didn't detract from the great dialogue and chemistry between Billy Crystal and Meg Ryan.
In the Billy Crystal non-romantic comedy category, CITY SLICKERS will definitely help you find your smile. As I think about it, though, I saw an early test screening, so I'm not even sure what the final product looked like…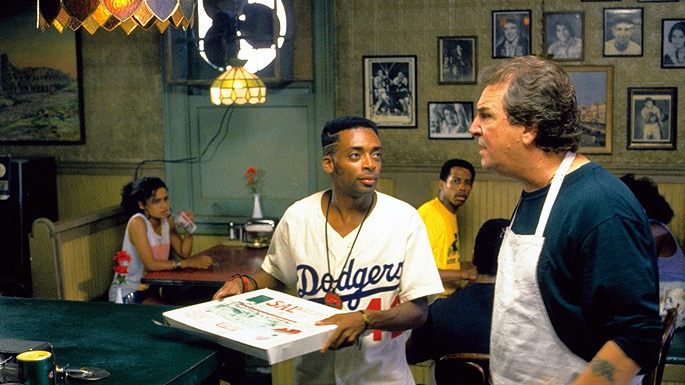 I saw DO THE RIGHT THING in Times Square while I was at college, and the entire experience was just electric.
MO' BETTER BLUES was where my friend, Mike, had his religious experience, but I was pretty enthralled as well.
My favorite Bill Murry is Peter Venkman Bill Murray in GHOSTBUSTERS. True, he's a bit of a dick, but in a charming, funny way. And what an ensemble alongside him. Close runner ups here are GROUNDHOG DAY and STRIPES (where I first witnessed the deft Ramis/Murray rapport).
Launching into outer space again, GUARDIANS OF THE GALAXY gave us a perfect comedy/action/science fiction blockbuster. Other sci-fi faves include the much-maligned ARMAGEDDON, along with the much revered ALIENS and STAR TREK II: THE WRATH OF KHAN.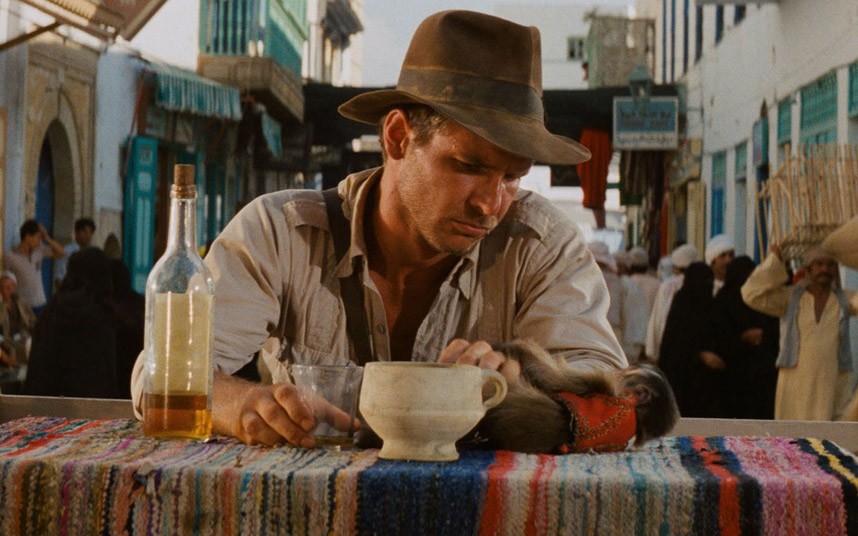 In the adventure department, RAIDERS OF THE LOST ARK was an entirely unique experience for me (despite being an homage to old serials), driven by the ever-charismatic Harrison Ford. And a whip. Also, some snakes.
On a much more intense, bleak, and violent front was the post-apocalyptic THE ROAD WARRIOR. Back then it wasn't controversial to be mad for Max.
DIE HARD was so good, it spawned its very own action sub-genre, and brought Moonlighting's David Addison to the big screen in a big way. Odd couple cops were at their peak in LETHAL WEAPON and LETHAL WEAPON 2 (despite Mel Gibson's glaring character flaws subsequently tarnishing a lot of the shine).
I became a rock and roll vampire myself after watching the THE LOST BOYS, while the same year's ROBOCOP swirled together a dizzying concoction of violence, satire, and action in New Detroit.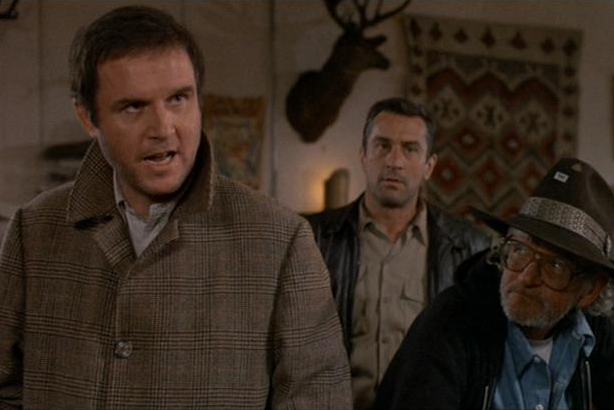 The very same month in 1988 gave us MIDNIGHT RUN and A FISH CALLED WANDA.
The comedy chemistry between Charles Grodin and Robert DeNiro was off the charts (Travis Bickle, who knew?!). And with it came an abundance of quotable dialogue and some of the best supporting characters around.
Meanwhile, Wanda gave us Kevin Kline's comic tour-de-force, and a reunion of my favorite Pythons, Cleese and Palin.
Speaking of which, MONTY PYTHON AND THE HOLY GRAIL was a thrilling find for me in mid-high school and served as an introduction to the much wider Python world beyond. TIME BANDITS also brought together a trio of Pythons to tell the time-travelling tale of a marauding group of rogue tree designers hunted by the brilliantly hilarious David Warner.
Back before Michael Keaton became drawn to dramas, his fearless comedy parts were the thrill, with MR. MOM and the darker NIGHT SHIFT my personal top two. Tim Burton's BATMAN may have set him on the track to more serious fare, but he remains my favorite dark knight.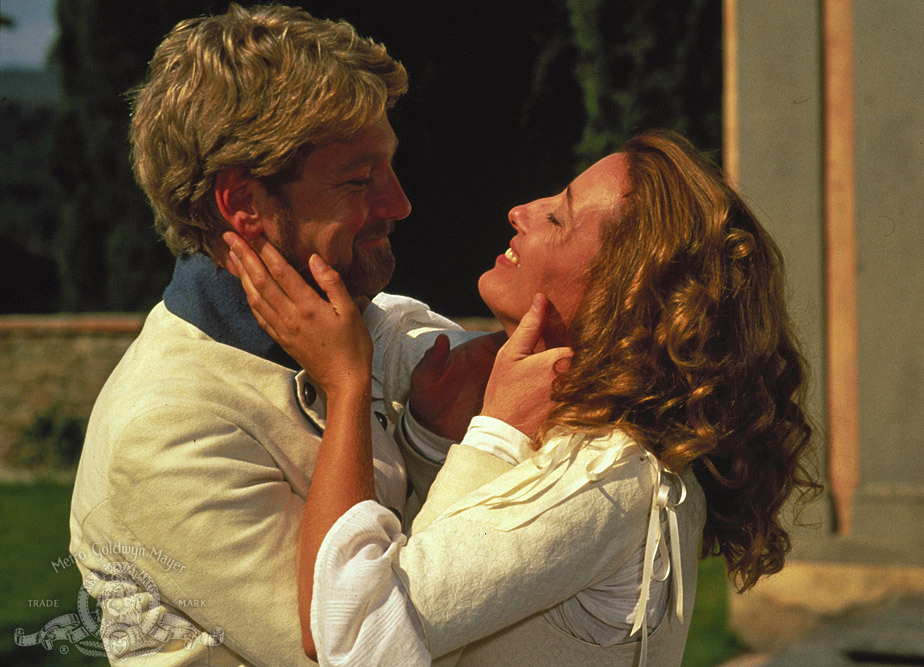 Turning Shakespeare from a chore to a draw was MUCH ADO ABOUT NOTHING, as Kenneth Branagh and Emma Thompson executed a sparkling comic duel.
ROSENCRANTZ AND GUILDENSTERN ARE DEAD is more Shakespeare-adjacent, but its crackling dialogue and overall weirdness won me right over.
I found the joys of the classic road picture in both THE MUPPET MOVIE and PLANES, TRAINS & AUTOMOBILES. The Muppets proved that Jim Henson and company could imbue a piece of felt with a heart and soul, while Planes, Trains showed John Hughes had what it took to make a "grown-up" movie every bit as great as his high school flicks.
In the indie category, PULP FICTION stands head and shoulders (and maybe even a clavicle or two) above the rest. Crazy, time-shifting, violent, and funny. DOWN BY LAW was an unexpected charmer. Small, offbeat, and wonderful.
ROXANNE is probably most people's favorite Steve Martin flick. Mine as well, but there was something special about the little taste of magic in L.A. STORY. Living in Southern California at the time may have intensified my connection, but it still comes in a close second. Oh, and THE JERK, of course. Can't forget The Jerk.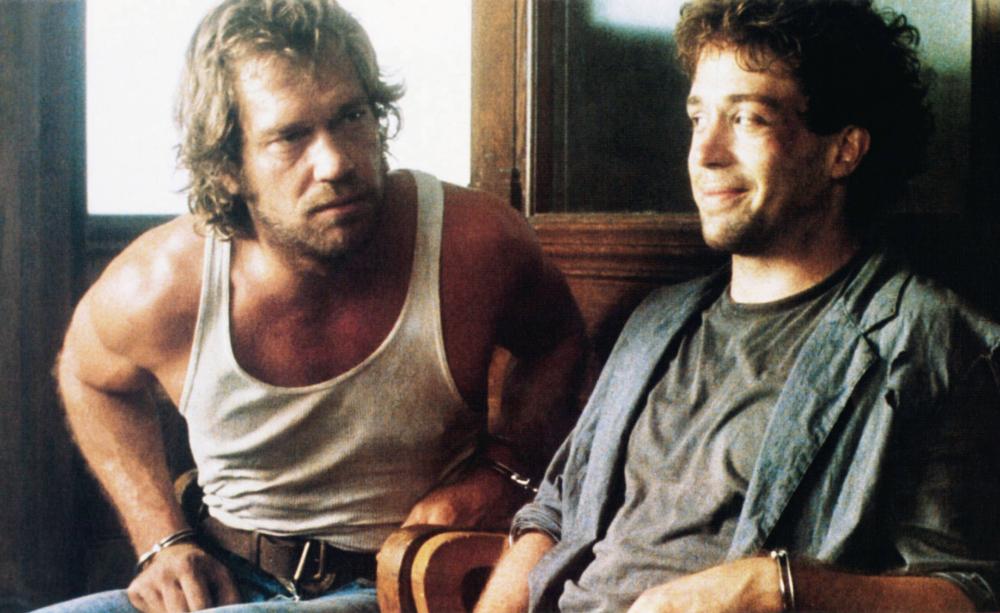 I don't think a lot of people have seen SLAM DANCE, but it really struck me. Beautiful photography. Wonderfully odd characters and darkly comedic moments. Not to mention an epic performance by Tom Hulce playing a reckless cartoonist accused of murder. What's not to love?
Other thrillers to love are THE SILENCE OF THE LAMBS and SE7EN.
Speaking of comic actors who got serious (see Keaton, Michael, above), the John Cusack I first became a fan of, was the affable loser of the funny and romantic THE SURE THING and the cartoonishly quirky BETTER OFF DEAD… I miss that guy.
Before getting lost in in Pandora, James Cameron took us on a wild ride in THE TERMINATOR. His bad guy-gone-good turnaround of TERMINATOR II: JUDGEMENT DAY was an excellent twist, spawning another iconic villain in a sequel that more than held its own.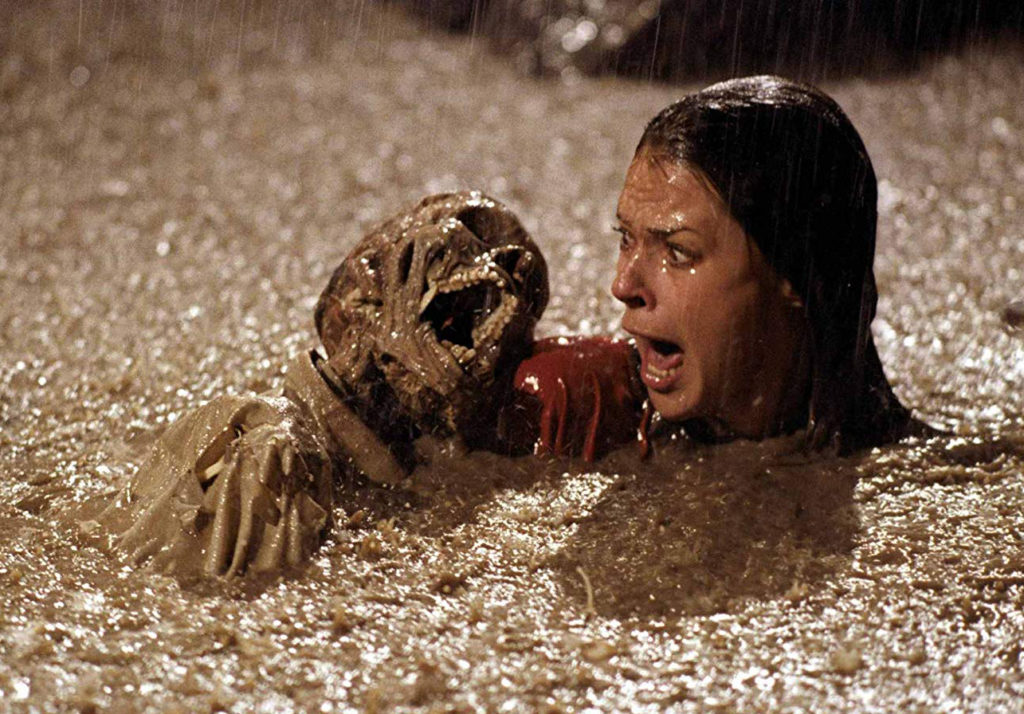 Although I was never a huge fan of horror films, a few manged to bring something special enough to draw me in and leave a mark.
POLTERGEIST had a big helping of Amblin magic, 1982's THE THING brought the extreme in both setting and tension, while AN AMERICAN WEREWOLF IN LONDON manged an amazing combination of gore and guffaws. And I can't forget the very first A NIGHTMARE ON ELM STREET that introduced us to charismatic child-killer, Frederick Charles Krueger.
THE UNTOUCHABLES serves as my favorite Kevin Costner Film, though BULL DURHAM was also a home run. I even liked Waterworld, but it doesn't make the cut here.
In the musical category, I loved WEST SIDE STORY even before I saw it, thanks to my parents' soundtrack album. A HARD DAY'S NIGHT is genuinely funny, and clearly a template for the Monkees TV show. Needless to say, THIS IS SPINAL TAP rates an 11.
Unfortunately, I couldn't come up with any sort of grouping for the remaining orphans, so here they go, just one after another…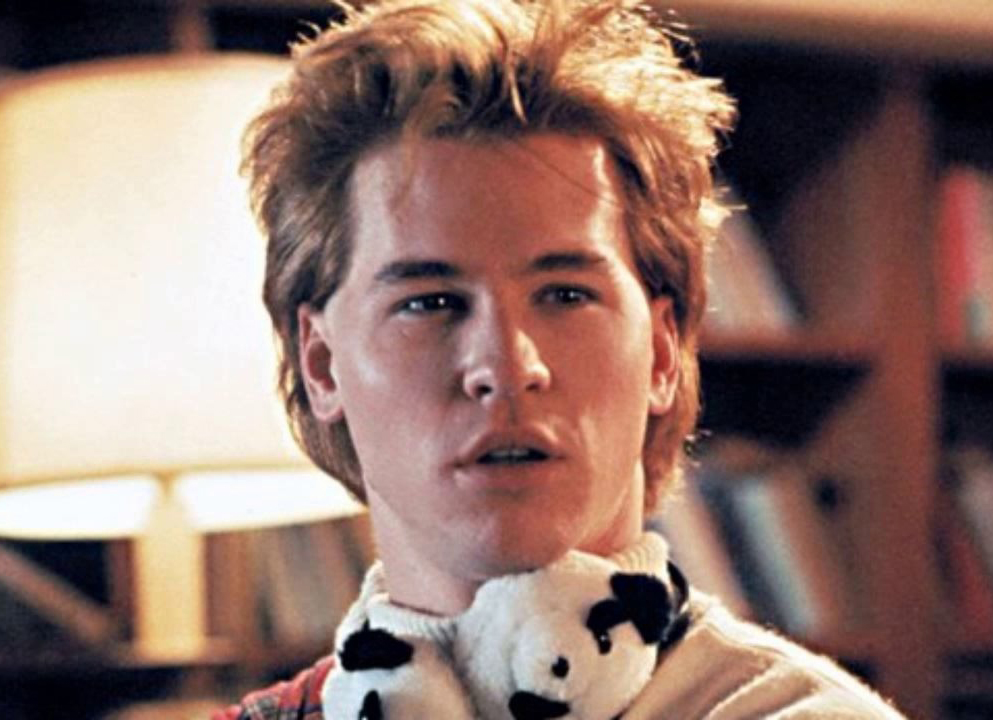 DANGEROUS LIAISONS (crackling dialogue, delivered crackingly well by Glenn Close and John Malcovich). GOODFELLAS (Joe Pesci makes a meal of it). MY FAVORITE YEAR (before Balki, Mark Linn-Baker had Peter O'Toole). THE PHILADELPHIA STORY (though I wanted a Stewart-Hepburn ending). THE PRINCESS BRIDE (inconceivably wonderful). BACK TO THE FUTURE (1.21 gigawatts of wonderful). SPLASH (did you think I was gonna leave out a Tom Hanks comedy?). RAISING ARIZONA (the best of the Cohen Brothers comedies). REAL GENIUS (I still hang my sunglasses from the back of my collar). RED DAWN (who didn't want to be a Wolverine? Preferably one that didn't die). YOUNG FRANKENSTEIN (you can have Blazing Saddles, this is the one for me). UNFORGIVEN (wrenching, intense, and so very, very good).
________________________________
How about you? Any of these in your top ten? Top fifty? Let me know your thoughts in the comments.