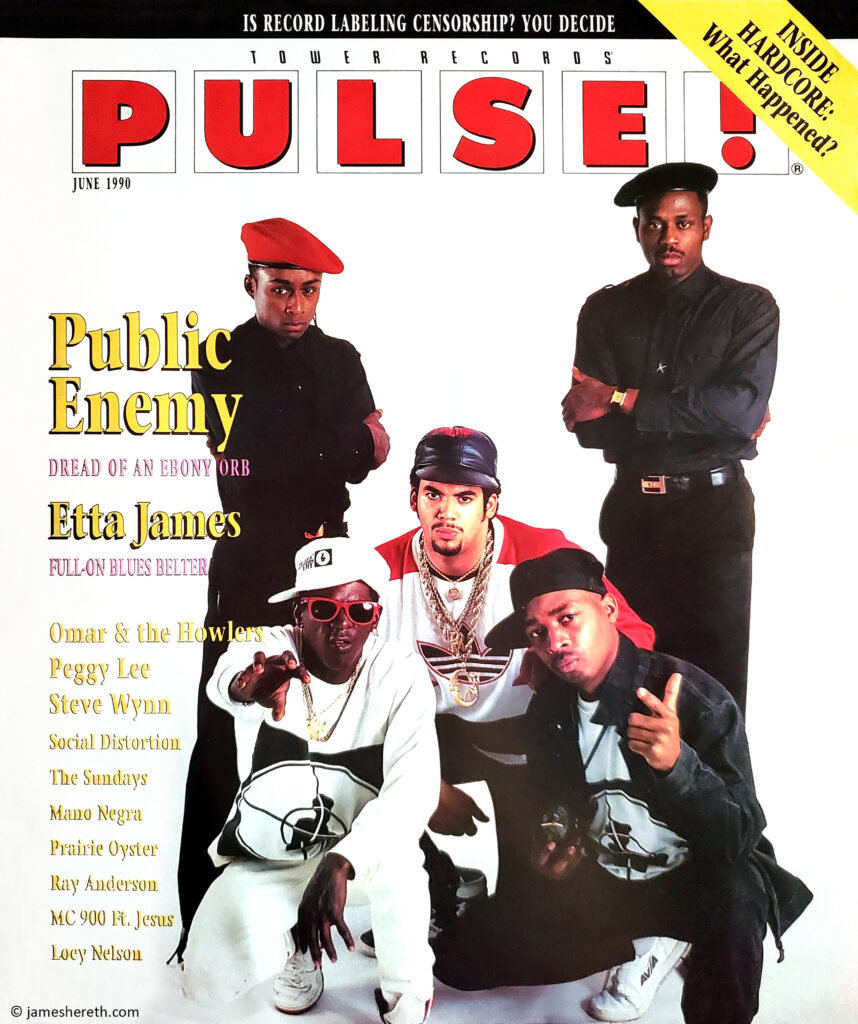 Back when I was in college, last century or so ago, Tower Records, well… they still existed to start with.
And while existing, they also put out a free monthly music magazine called Pulse! In addition to the interesting words inside, it was a good place to procure cool covers of your favorite bands for your dorm room wall.
One of their regular features was called Desert Island Discs.
Basically, it posed the question: if you were stranded on a desert island, and you could have only ten albums to listen to (possibly forever), what would they be?
It's tough. How do you narrow down all the music you love to just ten discs? I choose to add the additional layer of difficulty that you can't include "greatest hits" albums or box sets. Let's keep it pure, people.
Much like I mentioned in my favorite movies list, I suspect most people's album faves center around the music they listened to in their high school and college years.
That's extremely true for me, as – other than one exception – all my choices are from a mere six year period. Although… that's also a bit deceiving.
One of the realizations I've had here is that I've consumed a lot of music over the years in small increments. 45s, mix tapes, and – more recently – downloads and playlists. In the case of a lot of bands that I love, I've never even owned any of their complete albums. Singles and greatest hits, sure, but never a full LP.
As a result, artists like Queen, Eric Clapton, and even Hall & Oates are sadly never going to join me on my desert island.
But who will?
Answers below in no particular order….
Licensed to Ill (1986) – Beastie Boys
I was already a lover of the rap / rock hybrid thanks to RUN-D.M.C., and this album just absolutely put it over the top. It was perpetually playing from the moment I got it.
The Boys were keeping it classy in those days with the mirrored "EAT ME" next to the Def Jam logo on the cover. Saw them live at the Universal Amphitheatre on their 1992 Check Your Head tour. Think they had sort of grown beyond any affection for most of this album at that point, but I was (and still am) all-in.
Appetite for Destruction (1987) – Guns N' Roses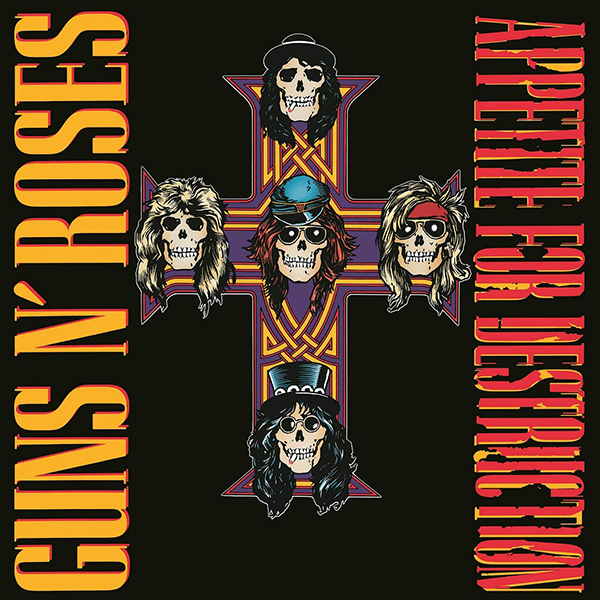 Hard, gritty, driving music by a volatile bunch of guys that have yet to come close to duplicating this album's seedy alchemy. Sure, G N' R Lies and Use Your Illusion I (and II) had high points, but there's not a dud to be found here. A virtual Greatest Hits.
I spent a good chunk of time throwing up in a Great Western Forum bathroom during a show of theirs in 1991. In retrospect, I shouldn't have pre-gamed so hard in the parking lot beforehand. Know your limits, people!
Vivid (1988) – Living Colour
Vernon Reid's virtuoso guitar and Corey Glover's soaring vocals are a one-two punch that lift this debut to dizzying heights. With a grab bag of styles that go from hard rock to hip hop, there's no chance of losing interest. Cult of Personality and Glamour Boys are the cream of the crop for me (though the entire crop is pretty creamy from start to finish).
A Living Colour show at a NYC club called The Academy was the first and only time I've ever crowd surfed. It didn't end well, but was pretty wild while it lasted.
Van Halen (1978) – Van Halen
My god, what a debut. A classic introducing a genre-defining talent. Eddie Van Halen reinvented how an electric guitar could be played, and the resulting songs remain as tight and rocking all these years later. A flamboyant front man might be problematic for band chemistry, but it's gold for an audience.

Lucky to have seen the entire original line-up live… albeit split across two shows and three decades.
Kick (1987) – INXS
They're quoted as wanting to make "an album where all the songs were possibly singles," and they absolutely delivered. Another endless string of hooky hit music.
Their next album, X, wasn't nearly as consistent, in my opinion, but it continued the musical direction established here and generated several more memorable tracks.
Flood (1990) – They Might Be Giants
While building sets for a student film at NYU, I was introduced to this album playing in the workshop. So weird and wonderful. There aren't a lot of successful alternative bands with an accordion as a centerpiece, but there's not a lot of bands like They Might Be Giants.
It was touch and go between Flood and follow-up, Apollo 18, but this is ultimately the right choice. I've seen TMBG live three times and once on film, in their documentary Gigantic (A Tale of Two Johns).
Fear (1991) – Toad the Wet Sprocket
Beautiful. Haunting. Rich. Plus, a band name spawned from a Monty Python sketch ("Rock Notes"). What's not to love? Walk on the Ocean is the standout for me.
Surprisingly for a group from Santa Barbara with such an offbeat name, their lyrics lean kind of melancholy. Cheer up, guys, you're rock stars.
Hysteria (1987) – Def Leppard
After a prolonged delay owing to drummer Rick Allen's recovery from losing his left arm after a car accident, Def Leppard came back strong. Like, crazy strong. Dense soundscapes and vocal melodies, all on top of super slick guitars and crashing drums make this album shine.
Pour Some Sugar on Me was apparently inspired by RUN-D.M.C. and Aerosmith's Walk This Way collaboration. It's like it was custom made just for me.
It Takes a Nation of Millions to Hold Us Back (1988) – Public Enemy
I don't remember what initially turned me onto Public Enemy, but I suspect it was hearing Fight the Power in Spike Lee's incendiary Do the Right Thing. Whatever the impetus, I'm glad it led me here. Thundering samples and beats with a message to boot. Angry, thoughtful, and relentless.
For me, this album just narrowly beats out Apocalypse 91… The Enemy Strikes Black, which also includes Bring the Noise, but as a collaboration with Anthrax.
You Boyz Make Big Noize (1987) – Slade
Slade is definitely not well known in the States, beside their late-career hit, Run Runaway, a few years prior. Nevertheless my friends got their hands on this album and it became the soundtrack to our summer.
I understand Slade purists aren't really fond of this one, but I just love it all. Sadly it was the final studio album by the band. They had a good run.
Beyond the Beach
Honorable mentions go to Raising Hell (1986) – RUN-D.M.C., Chess [Concept Album] (1984), Destroyer (1976) – Kiss, Pump (1989) – Aerosmith, Dookie (1994) – Green Day, and almost any later Billy Joel album. The Bridge (1986) maybe? Storm Front (1989)? How about River of Dreams (1993)?
You know what? Surprise me.
___________________________________
How about you? Can you limit your picks to just ten? Do you even know what an album is?
I'd love to hear your thoughts and lists in the comments.
________________________________________________________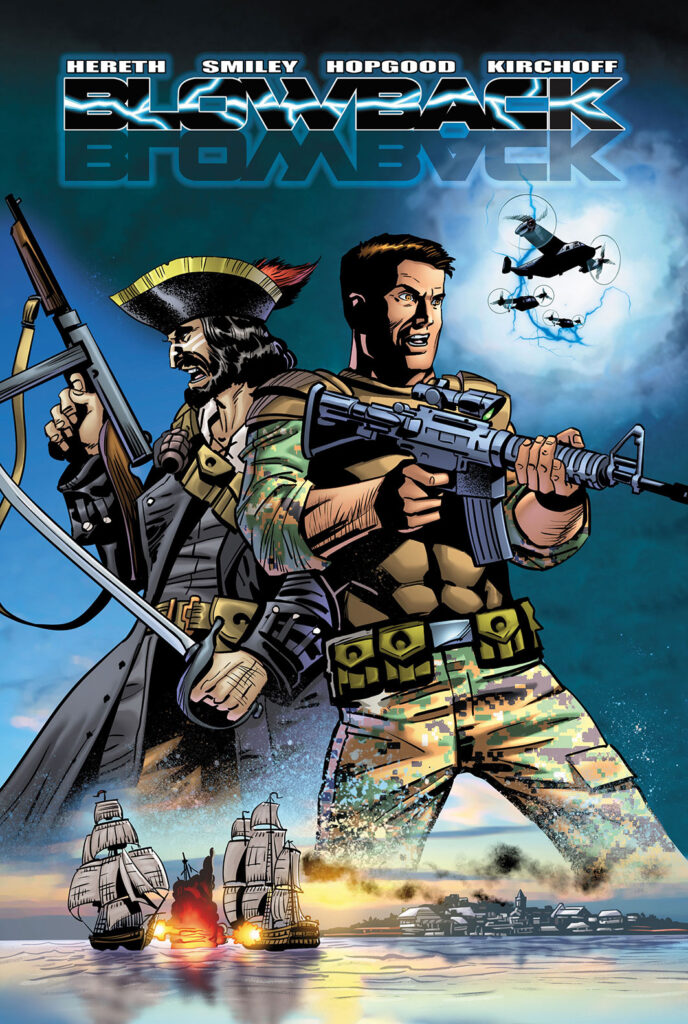 Jim Hereth's latest project is his debut action/adventure graphic novel, Blowback, available now at Amazon and comiXology.