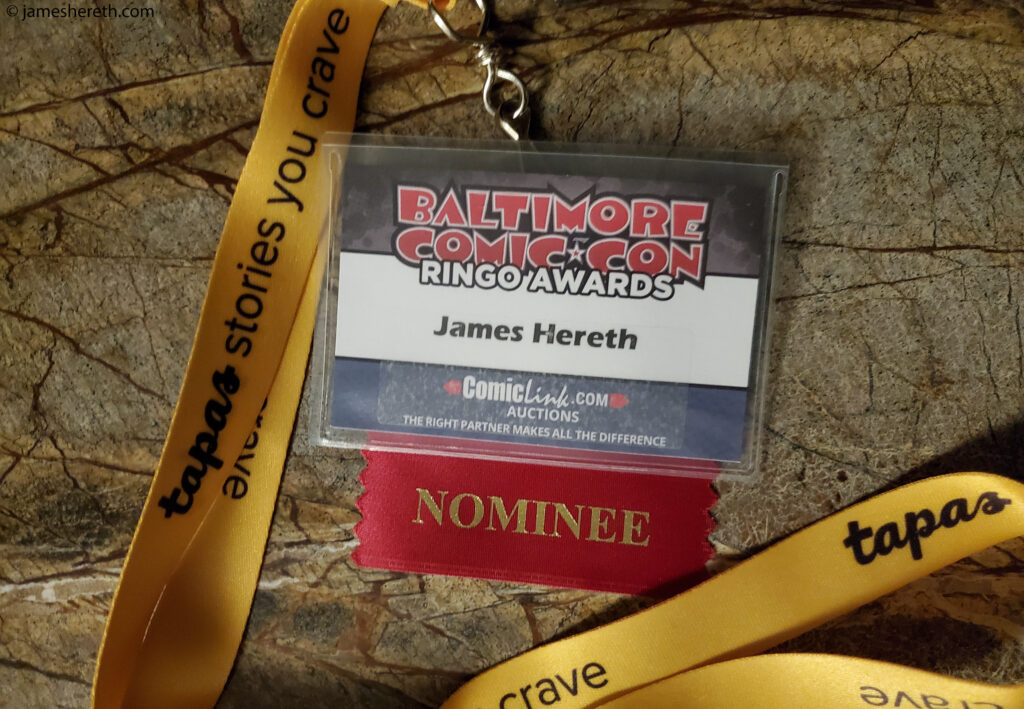 It's an honor just to be nominated, as they say.
That's absolutely true.
But what's also absolutely true is that it's even better to win.
Over the course of the last few months, I've been to two different industry awards shows – The Mike Wieringo Comic Book Industry Awards and the SOVAS Voice Arts Awards – and I've witnessed a whole lot of winning.
THE RINGO AWARDS
As part of the promotion for our graphic novel, Blowback, we rallied on social media to get voting support for the Ringo Awards.
Our efforts were a success as Blowback was ultimately nominated for Best Original Graphic Novel. One of just five and the only self-published book in the category. An honor indeed.
The awards themselves are held annually as part of the Baltimore Comic-Con, which made attending even more of a draw. Unfortunately, living in Los Angeles meant I'd have to fly all the way across the country to Maryland if I wanted to be there in person.
Conundrum.
After much debating, I decided it'd be worth the cost and time to be there to soak it all in. As an indie, I didn't think we had much of a chance to win, but the opportunity to even hear our book announced alongside all the other amazing nominees was too much to pass up.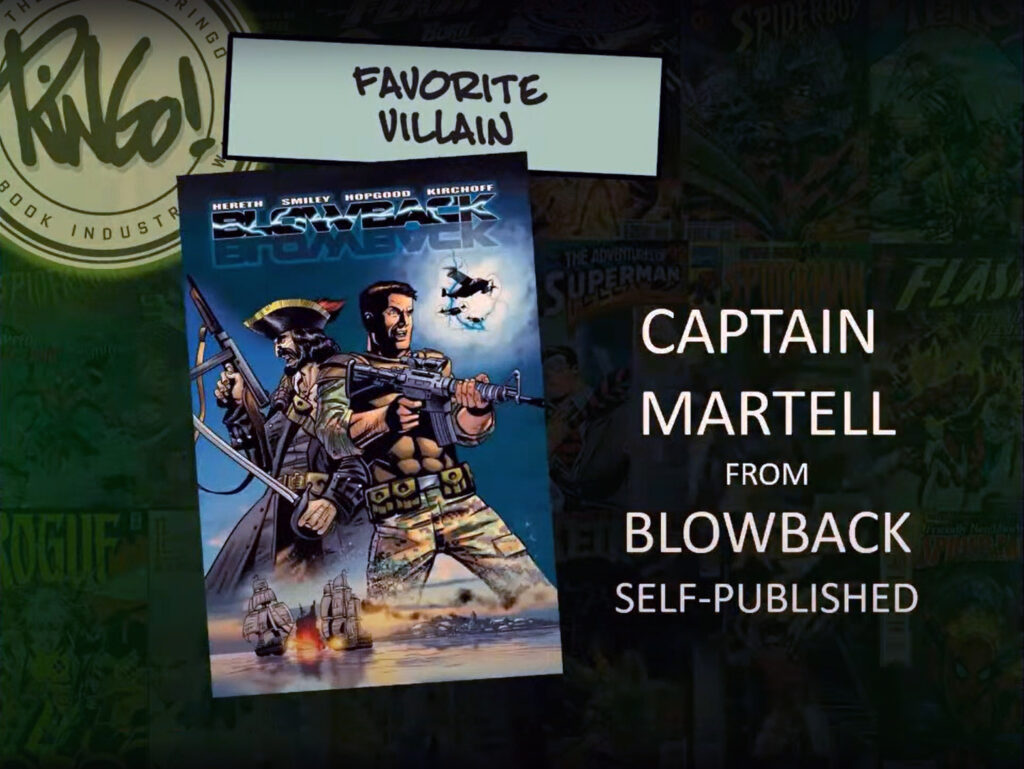 I might never get the chance again, after all.
With work and family responsibilities to juggle, the trip was a bit of a whirlwind, flying from LA to Baltimore on Friday morning and back again on Sunday afternoon.
It was also my first trip since the start of the pandemic so stress levels were a bit elevated, shall we say. Not liking to fly in the first place didn't help either. But I pushed through.
A comped weekend pass to the Con was an excellent perk, and made exploring the aisles just a little more special. I spotted fellow Ringo nominees, Fred Van Lente and Ryan Dunlavy at their booth and stopped by to introduce myself.
I've talked about Fred's comic scripting style being a model for our book in my Pipeline Artists graphic novel series, so it was cool to get to thank him in person.
Later, I took in the Breaking Into Comics panel, led by yet more Ringo nominees, and crashed the group photo afterwards.
That night were the Awards themselves, which were held as a dinner, like the Golden Globes. Following a cocktail party, I was seated at a table and got to meet and dine with a bunch of industry vets, like Jim Calafiore, Dirk Wood, and Afua Richardson. Also got a swag bag packed to the rim with books.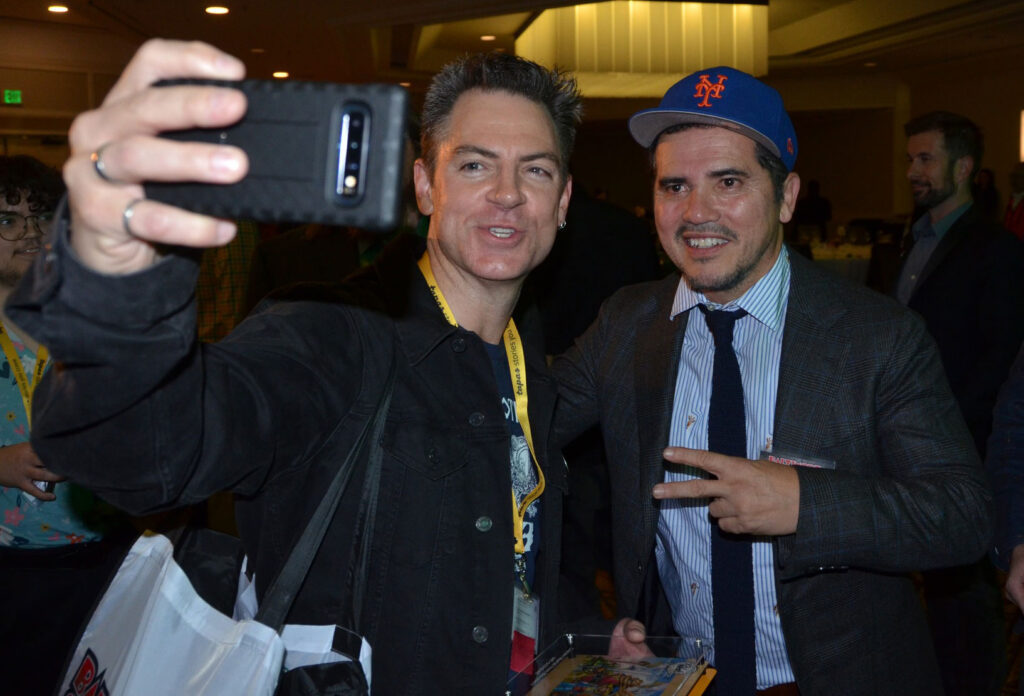 But it got even better than that.
About halfway through the night, Blowback actually won Fan Favorite Villain and I got to go up to the podium and make a speech! Short and sweet, of course. You don't want to get played off, after all.
As predicted, Blowback didn't win Best Original Graphic Novel. On the bright side, however, the category was announced by John Leguizamo, so everybody got to hear him name our book among the nominees.
I also made sure to grab a quick selfie with him afterwards, so it's properly captured for historical purposes. For science!
All in all, a fine weekend indeed. And I didn't even have to pay an additional bag charge for the brand new hardware.
THE VOICE ARTS AWARDS
December had me unexpectedly at my next awards show.
My brother-in-law, Dave Kozlowski, is an attorney on the Board of the Society of Voice Arts and Sciences, and was tabbed to present at their annual event.
This year it was being held at Warner Brothers Studios in Burbank, and Dave invited me to join him as a guest.
The location added a touch of nostalgia as one of my very first jobs in town was on the lot as a P.A. on Night Court.
Backstage in the green room, I was introduced to the gracious and friendly SOVAS principals, Rudy Gaskins and Joan Baker.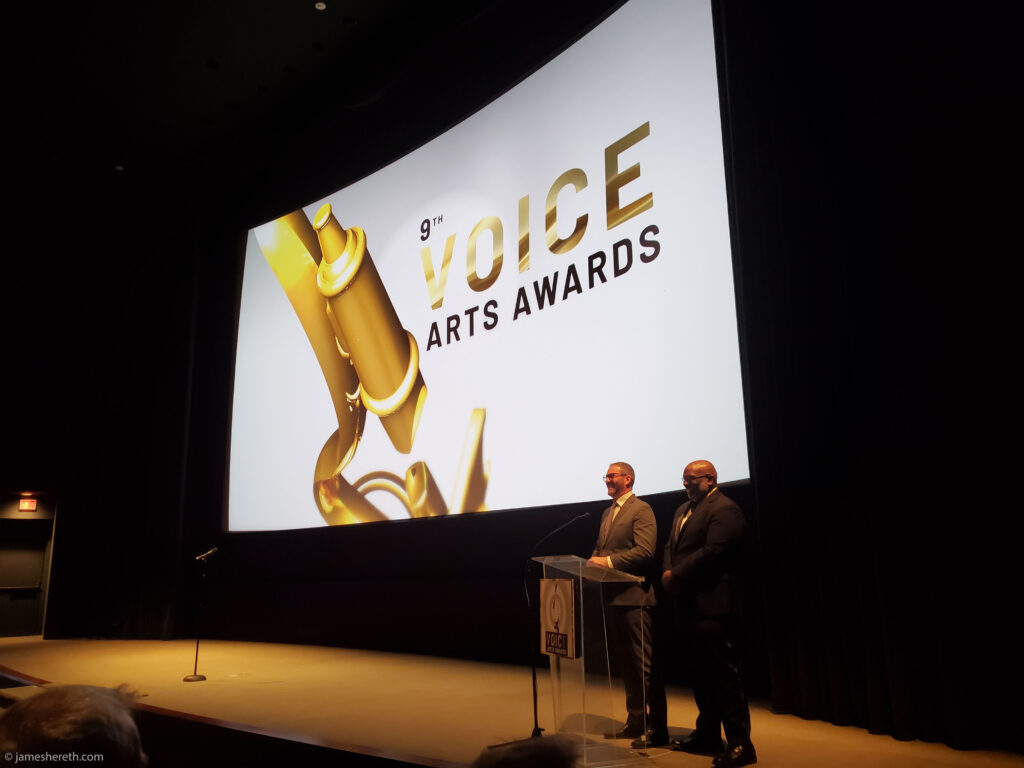 After watching Dave navigate the flash bulb storm of the red carpet, we got to enjoy several cocktail party chats, including with Dave's co-presenter, DC Glenn of Tag Team fame (not to mention the fantastic Scoop There it Is Geico Commercial).
You know, like you do.
The award show itself was held in a theatre, similar to the Academy Awards format.
Honorees included Lifetime Achievement Award winner, Charlie Adler, and the Muhammad Ali Voice of Humanity Honor recipient, Wes Studi.
A wonderful event overall.
CROWD CONTROL
Obviously, a lot of preparation and effort goes into each and every one of these ceremonies to make them special and unique. But cooperation from the attendees seems to be a common need.
Before both of the ones I was at, the attendees were told which side of the stage to approach if they were named a winner, as well as which side to exit.
At the Voice Arts Awards, timing was also crucial, including duration of acceptance speeches (a common award show struggle), and at what point winners should head on down to collect their trophies.
With the Ringos, winners were also instructed to pause after exiting with their awards so that they could have their picture taken by the official photographer. Couldn't see what happened offstage in the Voice Arts Awards, but I would think something similar.
If you ever get a chance to attend an industry awards show and you can make it happen without breaking the bank, take that leap. It's something everyone should experience.
Oh, and while we're here, have a Happy New Year!
________________________________________________________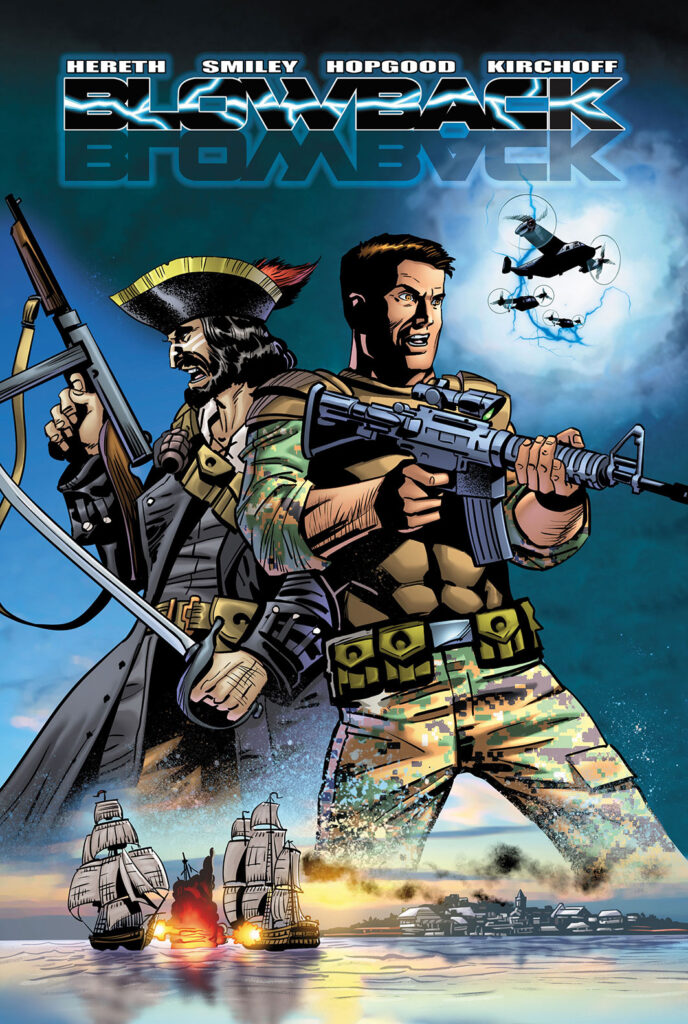 Jim Hereth's latest project is his debut action/adventure graphic novel, Blowback, nominated for Best Original Graphic Novel and winner of Fan Favorite Villain at the Ringo Awards. Available now in digital and paperback editions at Amazon.